Are you interested in acting? Why not come audition with us! Choose a tab to see our latest auditions.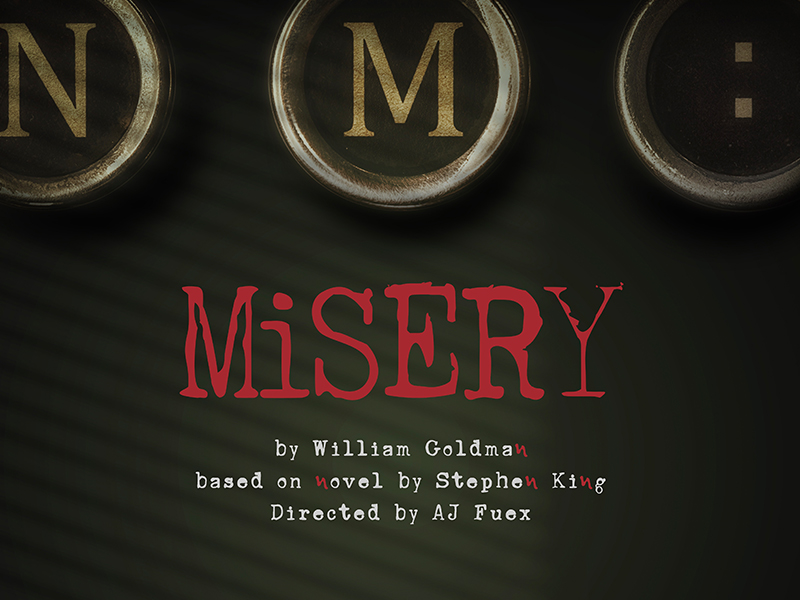 Misery: Based on the Novel by Stephen King
Audition : Adults
Auditions: July 30th 10:00 a.m. – 1:00 p.m.
Directed by AJ Fuex
Performances: October
Sides will be provided by the director.
*Play for mature audiences, so will have some disturbing violent scenes, descriptions, and language. Actors must be comfortable with these conditions in order to portray them authentically,
MISERY follows successful romance novelist Paul Sheldon, who is rescued from a car crash by his "number one fan," Annie Wilkes, and wakes up captive in her secluded home. While Paul is convalescing, Annie reads his latest book and becomes enraged when she discovers the author has killed off her favorite character, Misery Chastain. Annie forces Paul to write a new Misery novel, and he quickly realizes Annie has no intention of letting him go anywhere. The irate Annie has Paul writing as if his life depends on it, and it does.
Character Descriptions:
Annie Wilkes: Experienced actress, 30-60, to play intense psychologically damaged, psychopathic fan.
Paul Sheldon: Experienced male actor, 30-60, to play somewhat haughty, worldly professional writer.
Buster: Male, 30-60, to play Sheriff.
Please send any questions to plays@bastropoperahouse.org.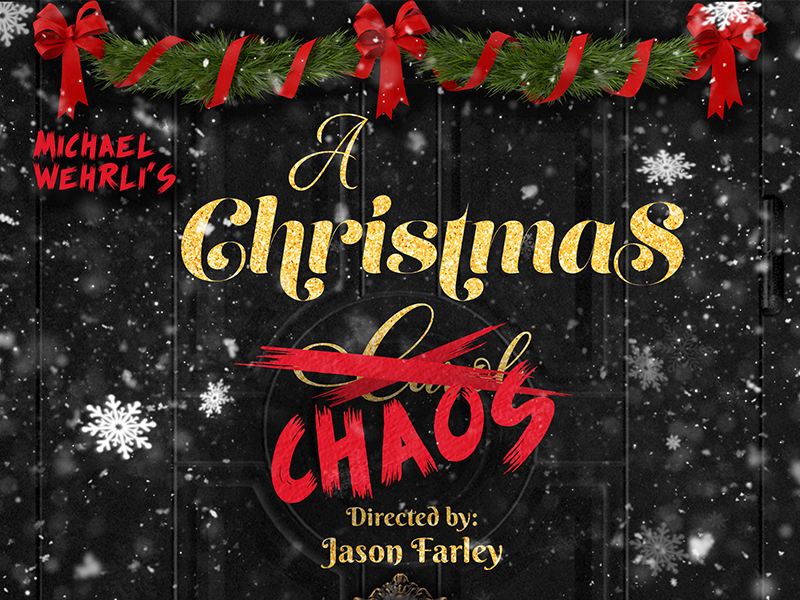 A Christmas Chaos
Directed by Jason Farley
Auditions: Open Call
September 10th, 2022
10:00 a.m. – 1:00 p.m.
Performances:
December 2-18
Rehearsals to begin September 26th
Please prepare a short comedic monologue no longer then 1 minute.
Synopsis
The Royal Shakespeare Company hasn't arrived as promised to perform their stirring rendition of "A Christmas Carol." So our intrepid band of hapless actors and technicians must put together their own production in only seven hours! What a pity that they are not quite up to the task, even though they give it their all. Have you ever experienced backstage mayhem? Well, you haven't seen anything yet! The play focuses on these poor but dedicated thespians doing their best while chaos is all around them: two kids fighting over who gets to play Tiny Tim, a confused actor who thinks she's in another show, a haughty lead actor, one actor playing both Bob and Mrs. Cratchit, an out-of-control director, thrown together props and costumes, ridiculous scenery, and tons of flubs and confusion. Most of the actors in the show play multiple roles in this extremely fast-paced and physical comedy. Even the light and sound board operators are characters in the show! The play is a hilarious backstage comedy that pokes fun at the classic novel and everything that can go wrong with a theatrical production.
Characters
Scrooge: Male    Age: 18 +
Considers himself a "professional actor" and is appalled when others don't take the craft seriously. Strong willed.
The Director: Male or Female  Age: 18 +
Enjoys being a director but frequently loses his cool when things go awry. He's doing his best to keep it together.
Stage Manager: Male or Female  Age: Mid 20's – Late 30's
Tough, no-nonsense type

Writer, Narrator: Male or Female   Age: Mid 30's – 50's.
Considers herself a great writer. Loves to show off her vocabulary

Brynn: Male or Female   Age: Early 30's – 50's.
Talented yet very flighty. Easily confused.
Tiny Tim 1:  Male or Female   Age: 8-14
Youth. Strong-willed. Used to getting her own way.

Singer, Tiny Tim 2:  Male or Female    Age: 8=14
Youth. Considers himself the child star of the area

Fred, Christmas Future: Male or Female   Age 40's – 60's
Was the understudy for the production. Suffers from stage fright. Shy and nervous.

Bob Cratchit, Fan, Belle: Male  Age: Early 20's- mid 30's.
A goofball. Thinks he's a good actor, but tends to overplay things. In a relationship with Pamela and they frequently butt heads.

Serious 2, Christmas Past, Christmas Present: Male or Female
Age: Late 20's – mid 50's.
Loves to ad-lib or find humor in everything. Frequently amuses herself.

Serious 3, Peter, Businessman 2, Husband:  Male
Age: Early 20's- early 40's.
Loves being involved in the theatre even though his talents are minimal. He strives to do his best.
Serious 4, Charity Lady, Mary: Female  Age: 30's-50's.
Very quick on her feet. Can always make the best of a tough situation.
Serious 1, Marley, Bob and Mrs. Cratchit: Female  Age: 40-60's
Strong actress that loves a challenge. Able to ad-lib well and roll with whatever is presented to her. But has a tendency to go overboard.
Young Scrooge, Boy: Female, Age: Early 20's-mid 30's
Strong-willed and hard-headed. In a relationship with Duane and they frequently argue. Tends to "lose" herself in her roles.
The Bastrop Opera House is casting the musical comedy "The Addams Family," book by Marshall Brickman and Rick Elice, music and lyrics by Andrew Lippa. Directed by Lisa Holcomb
Auditions:  Be prepared to attend both Saturday and Sunday auditions.
Saturday, October 22 10:00-4:00.  Please sign up for one 10 minute slot using the provided link.   https://koalendar.com/e/addams-family-auditions
Sides from the script will be provided at the audition for cold readings. Please be prepared to sing 16-20 bars of a musical theatre song of your choice. Please bring a music track for the singing audition or be prepared to sing acapella.
Sunday, October 23, 3:00 – 5:00 p.m. Dance audition/workshop.  Please wear comfortable clothing and bring water.  Be prepared to stay the full two-hours.
Production dates:
March 10th-26th
Friday and Saturday performances at 7:30 p.m.
Sunday performances at 2:30 p.m.
Rehearsal dates: Rehearsals to begin January 9th.  Rehearsals will be Monday-Thursday and Saturday choreography rehearsals.  Not all actors will be called on all days.
ROLES

MORTICIA ADDAMS – Age 25-55. Vocal Range: G3 – Bb4. The beautiful and mysterious head of the Addams family who believes strongly in family tradition. Morticia is confident and sexy with a side of dry wit. Strong mover (tango skills a plus!)
GOMEZ ADDAMS – Age 25-55, Vocal Range: Bb2 – G4. A suave man who adores his wife and children and takes immense pride in being an Addams. Gomez has great comedic timing, strong improvisational skills, and is a strong dancer/mover.
WEDNESDAY ADDAMS – To play a Teenager. Vocal Range: A3 – F5. Iconic Goth big sister, Wednesday, leads with a dark cloud exterior, but deep down she has her father's heart and her mother's sensibility. Wednesday falls in love with a "normal" boy who she brings home to meet the family, and the feelings threaten every reality she's known up till now. Strong belter with a hilariously dark sense of humor.
PUGSLEY ADDAMS – To Play a Teenager, Vocal Range: A3 – F#5 . The youngest of the Addams Family, Pugsley loves to be tortured by his big sister. Pugsley is charming and funny.
UNCLE FESTER – Age 25-60, Vocal Range; C3 – G4 full voice tenor, and up to C5 in head voice. Serving as the narrator of the show, Uncle Fester is lovable, childish, enthusiastic and highly incorrigible. He has great comedic timing. Ukulele skills are a plus!
GRANDMA – Plays anywhere between 60-102, Vocal Range: G4 – F#5. Fun, quirky and feisty, Grandma always has a trick up her sleeve. Grandma is wise, wacky and sometimes a bit crass. She has great comedic timing and physicality.
LURCH – Age 25–50, Vocal Range: Eb2 – E4 (a True Bass). Lurch is the Addams Family butler. A man of few words, his unmistakable commanding presence is accented by grunts, moans and deliberate movement. Must have great non-verbal story-telling abilities.
MAL BEINECKE – Age 30-55, Vocal Range: C3 – A4. The uptight father of Lucas and cold-shouldered husband to Alice, cynical Mal meets the Addams with skepticism. He finds the Addams to be too bizarre for his liking and cannot fathom being related to them.
ALICE BEINECKE – Age 30-55, Vocal Range: Ab3 – G#5. Lucas's mother and Mal's wife, Alice is strongly devoted to her family. She presents herself as reserved and collected (even when speaking in rhyme) until she learns to unleash her wild side at dinner with the Addams. Strong comedic actress.
LUCAS BEINECKE – To play a Teenager. Vocal Range: C3 – C5 (musical theatre tenor with some of this upper range in head voice). The hopeful romantic and son of Alice & Mal, Lucas has fallen in love with Wednesday and intends to marry her. He is optimistic and hopeful yet struggles to find the balance between his 'normal' family and the macabre Addams Fam.
THE ANCESTORS – 10 roles, all vocal ranges. The Addams ancestors from various eras serve as the chorus for the show and help bring the story to life. They will be featured both singing and dancing throughout the entire show (once relapsed from the family crypt!). Seeking actors with both vocals and dancing abilities.
Actors of all ethnicities are strongly encouraged to audition.